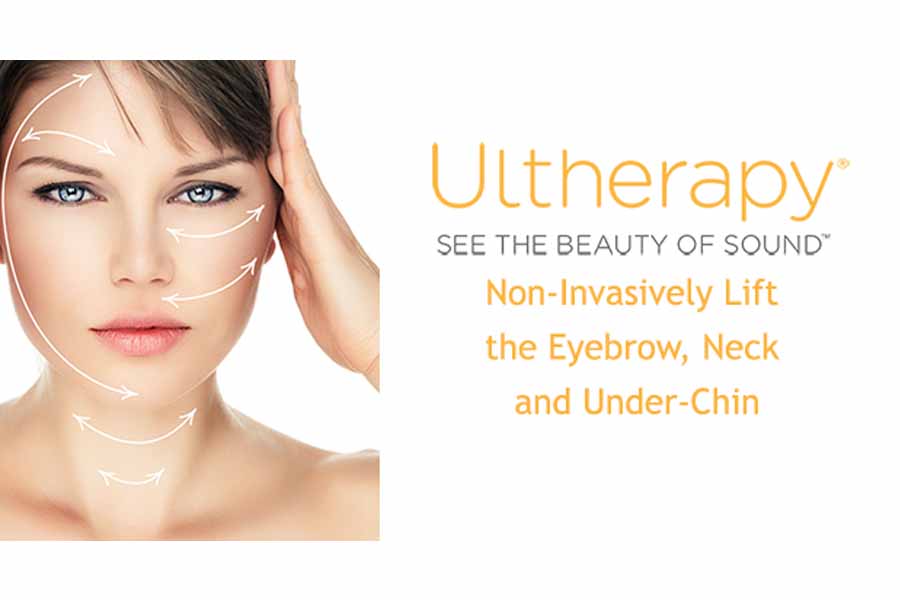 ULTHERAPY
What is Ultheraphy?
Ultherapy Skin Tightening is a non-invasive procedure which helps firm and tighten the skin. It reduces large and open pores, thereby making your skin look younger and more plumper. It is also used to remove fine lines, wrinkles and sagginess.
Ultheraphy uses micro focused ultrasound energy to lift and tighten the skin naturally – without any significant downtime or surgical procedure. It is the only non-invasive procedure that is FDA cleared which makes it one of the safest options if you are looking for an anti-aging treatment.
It is used to treat the skin on the neck, under the chin and on the eyebrows. With technical advancements in the Ultheraphy treatment, you can now get a fresher look from your brow to your chest.
Ultheraphy harnesses the power of ultrasound to transform the chin, neck, brow and chest. It is a safe and effective treatment that is being used for past 50 years. It has been a proven treatment to reduce aging signs all across the globe and established as effective in clinical studies.
Ultheraphy relies on the ultrasound therapy to deliver its collagen boosting treatment. It also incorporates traditional ultrasound imaging, which allows medical examiners or dermatologists to see the layers of the tissues they are treating. Individual separation of the layers of tissues ensure a precise treatment and enables the practitioner to evaluate the tissues and then deliver to a concise area.
It stimulates the formation of collagen – a natural chemical produced by our body which helps in attaining a healthier, plumper and beautiful skin – deep below the skin surface. Ultheraphy treats the deep foundational layer of the skin without puncturing your skin tightening treatment.
It uses sound energy – a unique form of treating skin tight- which allows it to bypass the surface of the skin to treat the depths. The production of collagen takes time; therefore, one can see results only after 2-3 months post the Ultheraphy.
The entire procedure of Ultheraphy takes 30-60 minutes per sitting, depending on the area being treated. There is no downtime after the treatment which makes it more feasible and preferred choice by patients.
Uses
Ultheraphy is an anti-aging treatment which affects mild skin laxity. It is preferred by many people all around the world. This treatment is mainly used for 2 purposes:
Tighten skin under the neck, chin and on chest
Reduces fine lines and wrinkles
Benefits
There are ample of benefits linked with Ultheraphy. It is not just another anti-aging treatment that promises to make your skin feel younger, it is in fact a reliable and trusted procedure by doctors which is clinically proven and tested.
Gives a healthier and plump skin
Delivers truly unique and effective results
Suitable for almost every individual with little to no side effects
Minimal Downtime
Non-invasive FDA approved treatment, hence a safe and effective treatment
Customizability of the treatment allows it to meet your specific needs
FAQ
How much time does the procedure take?
Ultheraphy takes anywhere between 30-60 minutes per session. It also depends on the area being treated and damaged tissues.
Are there any side effects related to Ultheraphy?
There are no major side effects associated with Ultheraphy. One might experience slight redness which resolves within a few hours following the treatment. Some patients might also have swelling, tenderness or tingling sensation, but these are mild in nature and temporary.
Consult a dermatologist or physician before going for any skin treatment. If you have an allergy or a history of skin problems, it is always better to be safe and assured that the procedure will not worsen your skin or damage it in any manner. Ultheraphy is considered as one of the safest and most effective, non-invasive treatments used for anti-aging.
What is the downtime of Ultheraphy?
There is no downtime after the treatment in Ultherpahy.
How long does the effects of Ultheraphy last?
Ultheraphy stimulates the production of collagen for a tighter and firmer looking skin. Since the collagen stimulation differs from one person to another, the effects of Ultheraphy also depends on the individual.
Though the process helps produce new collagen on the inside, the natural aging process of the person defines how long the visible results of the newly produced collagen would last. You can opt for a future touch up treatment which can help control your aging process, which varies in every individual.
What does Ultheraphy feel like?
As the ultrasound energy is deposited into the depths of your skin, you will feel tiny energy bundles getting into the foundation layer of your skin. You might feel a tingling sensation or mild redness, which would fade away within just a few hours after the treatment.
Is Ultheraphy safe?
Ultheraphy is the only FDA approved, non-invasive treatment which is proven effective clinically safe. It is used in over 60 countries, with over 1 million treatments already performed globally. Apart from this, Ultheraphy has been a preferred treatment for treating aging signs for more than 50 years.
Do I need to take time off after the treatment?
No. Since the procedure is non-invasive and has no downtime, you can resume your normal activities immediately post treatment without having to follow any post treatment measures.
How much does it cost?
Ultherpahy treatment is a cost-effective procedure. The price depends on the area being treated, geographic location, experience of the practitioner and equipment used. Though treatments are customized to fit into patient's budget, doctors need to ensure that they use a reliable, safe and latest technology to treat the skin as it is extremely sensitive.
The exact pricing for a session can be discussed with your doctor during consultation meetings. If you have any doubts regarding how the process would go, how much time it would take, is it safe or not, feel free to ask your practitioner before your treatment.
How many treatments does it take?
Mostly it takes just one treatment for the effects to show, however, it depends from person to person as the stimulation of collagen is different in every individual. Factors like skin laxity, genetic structure and biological response to ultrasound determine how effective the treatment is.
Am I a good candidate for Ultheraphy?
If you feel that you have skin laxity in any form, be it be fine lines, wrinkles, open pores, you are definitely a good candidate for Ultherpahy. Loose skin under the neck, chin, or lines and wrinkles on the chest are signs of aging that you should not overlook. It is better to treat these aging signs at the initial stage itself.
Ultheraphy is best suited for people aged between 30s and 50s who have mild skin laxity. Please note that Ultheraphy is not a replacement for a surgical facelift. So, if you have a lot of sagginess in your skin or feel that you need a much stronger treatment, Ultheraphy is not a good option to consider.
It is the best treatment for those who are not ready for a surgery or want to have a mild, non-invasive treatment for their skin.