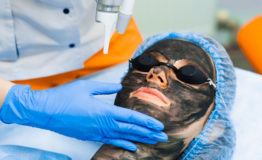 Revlite Laser
Revlite Hair bleaching
Revlite laser technology offers the ultimate solution to the fine hairs that cannot be easily removed. The treatment bleaches the hair thus making it invisible without any risk of stimulating the hair growth.
Carbon laser
Also known as charcoal peel or charcoal facial, carbon laser leaves skin firmer, smoother, and softer. This non-invasive procedure is extremely helpful to reduce pore size, make the skin softer, even out skin tone, remove blackheads, and make the skin appear more radiant and youthful.
Revlite Wrinkle Reduction/ Face rejuvenation
Laser skin rejuvenation (Revlite) stimulates collagen development using a quick, non-invasive treatment. The procedure helps revitalize and rejuvenate one's skin. Whether it's irregular pigmentation, sun-damaged skin, enlarged pores, or fine lines, this treatment is a one-stop solution for all concerns.
An ideal case can include some or all of the following:
Enlarged Pores
Oily Skin
Fine Lines/Creases/Wrinkles
Reduced Facial Laxity
Skin Discolourlations
Acne Scars
TATTOO REMOVAL
Revlite laser has 2 wavelength 1064 nm removes almost all colors of ink,safe for all skin colours
532nm treat red, brown, orange and yellow ink.
Number of sessions depending on depth of tattoo, interval between sessions 4-6 weeks.
No down time rarely redness and swelling for few hours.