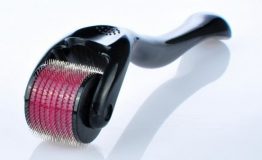 DERMAROLLER
A derma-roller contains hundreds of tiny needles. When in use, these needles create micro-injuries on the skin, which in turn sends collagen and elastin production into overdrive to compensate as it heals—leaving your complexion tighter and plumper than it was beforehand.
Dermaroller For the face- is usually carried out by a roller that penetrates slightly into the Mesoderm to reduce face indication issues without causing much pain.
Face indications that are commonly reduced with Mesotherapy are:
Large pores
Dull pale face
Hyper pigmentation
Fine lines and wrinkles
Skin laxity
Dermaroller For Hair Loss :
Scalp Mesotherapy is a popular treatment among many to reduce the effects of hair loss and is also termed as a long term cure for hair loss. This virtually painless treatment is completely safe when carried out by a professional and does not require any kind of local anesthesia or dressing which makes it easier to undergo treatment without disturbing your personal or professional life.
Mesotherapy is often termed as one of the most effective treatments that help in hair rejuvenation and restoration as it is directed exactly on the hair follicle to neutralize the excess of DHT (dihydrotestosterone) and increase blood circulation around the area resulting in strong hair growth with drastic reduction in hair loss.
Mesotherapy is also used for replenishing hair growth in individuals who suffer from hair loss due to reasons such as:
Hormone imbalance in and around the hair follicle
Reduced blood circulation
Lack of nutrients to support hair growth