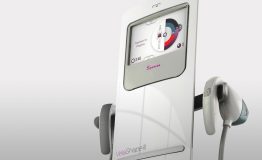 VELA SHAPE III
In the age of body shaping where people look for the perfect body contouring treatment, Vela Shape 3 has evolved as one of the most reliable, effective and ideal treatment. Vela shape 3 reduces the appearance of cellulite and thigh circumference temporarily.
It is a non-invasive treatment that uses a combination of technologies to reduce visible cellulite and contour your body. It uses vacuum technology which manipulates the skin, while the infrared light and bi-polar radio frequency energy heats the fat cells slightly and its surrounding tissues.
This type of efficient heating and vacuum stimulates the growth of new and fresh elastin and collagen that are responsible for maintaining a healthy, voluminous body with reduced skin laxity. The surface of the skin becomes smoother and firmer as there are no lines or folds visible. Vela Shape 3 enables you to safely achieve a toned, contoured and well-shaped body in just 3 treatments.
Most patients find Vela Shape 3 as a comfortable, rather relaxing treatment which feels like a warm, deep massage. The treatment can be customized as per the patient's body type and requirements. You might experience a slight warm sensation in the treated area for a few hours after the treatment, after which it will subside on its own and become normal.
The optimal results of the Vela Shape 3 treatment can be observed after 3-6 sessions where the patient can notice a reduction in both, the circumference and the visibility of cellulite in the treated areas. Some patients even see instant results after just one or two sessions. It highly depends on your body type, equipment used and the expertise of your doctor.
In clinical trials, Vela Shape 3 has caused people to reduce one full dress size after a series of treatments. It is one of the most preferred treatments for body contouring as it is non-invasive, safe and highly effective. The entire treatment takes anywhere between 40-60 minutes depending on the skin area to be treated, age of the patient, equipment used and body type.
It does not have any downtime, which means you can continue your daily activities immediately after the treatment. Though it is recommended to consult with your doctor for any specific precautionary measures that you might need to take before or after the treatment.
Areas that can be treated with Vela Shape 3
Vela shape 3 can be used to treat many different areas of the body. Here are some of the most common treated areas under the Vela Shape 3 treatment for cellulite reduction and body contouring:
Thighs
Love handles
Buttocks
Hips
Upper arms
Bra lines
Saddlebags
Abdomen
Knees
Are you a good candidate for Vela Shape 3?
Vela Shape 3 is not a weight loss treatment. It uses a combination of different technologies that contours the body and gives it a defined shape. It is an ideal treatment for a patient with a BMI (body mass index) of less than 30.
To know more about Vela Shape 3 and understand if it is the right procedure for you, talk to our dermatologist or medical expert. A professional will assess your body type and evaluate if it's the right treatment for you. An effective alternate method of Vela Shape 3 for treating skin laxity and reducing cellulite is Carboxy therapy.
If you are looking for an affordable body contouring treatment in Dubai, consider visiting our clinic for a consultation and get a closer look of how the treatment actually works. We also offer other skin and hair related treatments which include anti-aging treatments, fillers, body whitening, chemical peeling, hair removal treatments, Obagi facial, Hydra facial and even Ultheraphy.